Where are we now?
The UK government has now passed first pieces of legislation on Brexit. When Brexit happens, all EU law will be implemented in the UK. Presumably this also means that rights conferred by EU law and EU bodies will at first be valid in the UK as well. This would mean that EU trademarks continue in force for the UK when Brexit happens. It is likely that during the negotiation phase more detailed regime will be implemented.
The EU Commission has on its part published a position paper on intellectual property. The Commission states that EU rights should be continue in force in the UK after Brexit without additional cost to the right holder. If necessary, the UK should introduce national legislation to ensure this. If EU Commission's position is accepted by the UK government, the transition to post-Brexit world will be relatively smooth.
What is the likeliest scenario?
Nobody knows for sure what will happen. We consider it the most likely scenario that there will be an implementation mechanism whereby EU trademark rights are accepted in the UK, but there is a need for some kind of "validation", basically a fee for the UK Intellectual Property Office. As for now, we don't see any particular reason for companies to file separate UK trademark applications in preparation for Brexit. This could however change when more information emerges.
In order to benefit from any transfer mechanism, it is highly likely that the trademark must have been applied or registered before Brexit date.

Download our latest leaflet below (click the image below)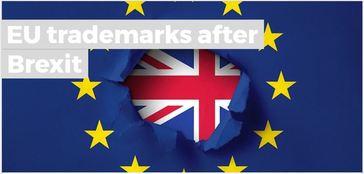 Have a Brexit question?
Other materials on Brexit

Erkki Holmila
Mr. Erkki Holmila
erkki.holmila@ipriq.com
​+3580503207744
* number of trademarks filed in 2017 before European Intellectual Property Office (statistic taken 15 August 2017). The statistics are gathered by using EUIPO ID numbers.