Protecting Your
Business & Brand

Can Be Easy
Reggster is a law firm making trademark registration quick, simple, & affordable.
1 500+ trademarks registered by Reggster
Neeb Global Registration?
We Have You Covered
How to Register Your Trademark
Give Your Trademark Information
Tell us about what you need trademarked and we will perform a preliminary search for your mark
Receive & Review Our Proposal
You will receive our assessment and proposal within 24h. If you need help with it, we're there for you.
We Get to Work
Once you have approved the proposal, we get the paperwork done, file your trademark for you, and keep you updated throughout the process.
You're Trademarked!
Manage your trademark portfolio on our convenient online platform. You will have access to all documents and information about your case.
One registration covers 27 countries
With one registration, you will protect your business across one of the world's largest market. The EU trademark covers all 27 EU member states and costs only few euros per year per country.
Get Help for Your SME Up to
1 000€
The European Union is providing the SME Fund which offers financial support to SME's looking to protect their intellectual property.
Contact us to learn more about the SME Fund.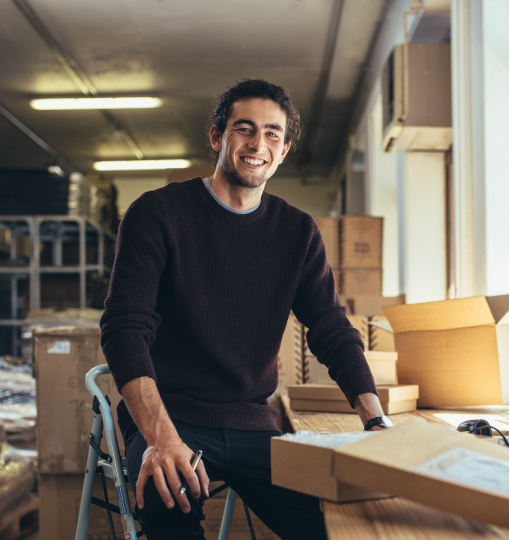 Why register a trademark?
You put a lot of work into building your business and reputation, but if it's not trademarked then it's vulnerable. Your brand is how consumers identify your product or service, and when it's not trademarked:
Someone else can use it, and you have no legal recourse
Someone else can trademark it, and force you to rebrand
Rebranding is worst-case-scenario, but you can avoid it all-together by trademarking your name, logo, and slogan.
Besides protecting your brand, there are many upsides to trademarking your brand.
Manage risks
When your trademark is registered, you can prohibit others from using a mark that can be confused with your trademark;
Also, others cannot later register marks, which would prevent you from using your own mark. A registration makes it less likely that you will have to change your brand name later.
Facilitate expansion
Trademark rights are territorial. A registration in one country does not give any protection in other countries.  
Thanks to the internet and e-commerce, brands are exposed and exported  to more and more countries. Saas services can be used from any country. It is important to protect your trademark internationally.
If your trademark is not registered, you might have problems in findling local agents, importers or partners for your products. If you manufacture overseas, like in China, you should protect your trademark there.
Increase Company Valuation
Companies that protect intellectual property get more funding at higher valuation. Not having your trademark registered is a red flag for investors. It means that your brand in vulnerable and you don't rights to it.
Also, if you want to sell your life's work one day, be sure that you will have something to sell. Your brand value is captured in registered trademarks. In many cases, a brand is the most valuable asset of a company and a trademark registration is the evidence that you own your brand;
Use the prestigious

® symbol
Using the ® informs others that your brand is valuable and your trademark enjoys legal protection. 
Many companies make trademark searches in trademark databases before choosing a trademark. Be sure that they will find your trademark there as well, and make it as easy and inexpensive as possible for them to choose another trademark than yours.
No Hidden Fees
Don't like surprises? Neither do we. That's why our fees are transparent, and you never pay more than you expected.
97% Success Rate
When rare obstacle arises, we have the know-how to solve problems quickly, and keep your trademark on track.
World Class, Experienced Attorneys
Our team has extensive experience, and has helped Fortune 500 companies and startups in trademarking and protecting their brands in more than hundred countries.
Hear What Other Business Owners Had to Say:
If you're looking for exceptional trademark registration services, look no further than Reggster. The team of consultants I worked with, Iida, Jarmo, and Erkki, were friendly and efficient in handling all the paperwork and ensuring our trademark was registered in all EU countries. Not only that, they also helped us secure funding from the European Union to cover half of the fees. Overall, I highly recommend Reggster for anyone seeking reliable and cost-effective trademark registration services.
Smooth, professional service at the right price.
The clearest benefit from the service is that the game is now trademarked. If we had started doing the whole process ourselves, we would have spent a lot of time and nerves on it. Also, we would probably have been faced with issues that we wouldn't have considered properly. I recommend Reggster services to anyone who needs trademark registration.
I give my unreserved recommendation for Reggster's services. I especially recommend them for businesses that are aiming to go international, but for my part, I would have protected my brand even if I was planning on staying at the domestic market. As our objective is to be a strong and well-known brand, it would be unthinkable not to protect our brand.
I cannot even imagine how trademark protection could be done in a smoother and clearer manner than this. I already had extensive knowledge of creating and developing brands. Through it, I also had a general understanding of the need to protect a trademark. What I didn't have was an experience in protecting trademarks. I absolutely recommend their services.